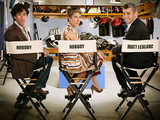 It's all about the comedy and the drama in our TV picks this week. Over the next seven days, we've got the return of Matt LeBlanc in
Episodes
, the return of an animated Ricky Gervais in his self-titled show and the airing of the most shocking
Once Upon a Time
episode to date.
And there's bound to be equal measures of laughter and tears when
Britain's Got Talent
comes to a close for another year. Read on below for our full run-down of this week's best telly.
The Ricky Gervais Show: Tuesday at 11.30pm on E4
This animated version of Gervais's fantastic podcasts - which also features quick-witted Stephen Merchant and Karl 'head like a f**king orange' Pilkington - returns for a third series. And this opener is one of the most hilarious episodes yet, focusing primarily on Karl's attempt to sell his latest movie idea to a pair of fictional film execs, personified by Gervais and Merchant. For those of you who enjoyed Pilkington's idea for a bizarre sci-fi romance starring Clive Owen (or is that 'Clive Warren'?), just wait until you hear the pitch for 'Bryan's Brain' starring none other than Tom Cruise. This writer genuinely shed tears of laughter.
Watch a clip from
The Ricky Gervais Show
below:
Episodes: Friday at 10pm on BBC Two
We here at
Tube Talk
feel that this US/UK comedy-drama got a bit of an unfair reception first time round - it may have taken a little while, but
Episodes
grew more confident as it went on, and by the time the first series ended, it was firing on all cylinders. We're certainly glad to see it back - series two picks up four months after Beverly (Tamsin Greig) slept with Matt LeBlanc (the man himself) and
that
fight.
Pucks
is about to launch on US TV, but relations are frosty between the show's star and its creators. Will Matt's particular brand of charm win Beverly and Sean (Stephen Mangan) round?
Watch a trailer for series two of
Episodes
below:
Britain's Got Talent: Saturday at 7.30pm on ITV1
The nation's biggest freakshow may have been slightly overshadowed this year by TV's hottest new property
The Voice
UK, but how could you not tune in for the final?
Simon Cowell
, Amanda Holden, David Walliams and Alesha Dixon will all be on hand to mock 2012's top performers one last time before you decide who gets a spot at the Royal Variety Performance and the cool £500,000 jackpot. Our money's on Mr Zip. Maybe with that kinda wonga he can finally replace his lost mobile and get some new keys cut.
Watch
Digital Spy
's interview with the
Britain's Got Talent
team below:
Starlings: Sunday at 8pm on Sky1
If you're on the lookout for a heart-warming family drama, then
Starlings
could be just the thing for you. A strong cast of familiar faces -
Downton Abbey
's Brendan Coyle,
Scott and Bailey
's Lesley Sharp and more - breathe life into the Starlings, a loveable working-class clan. Believe it or not, this gentle series was created by none other than Matt King -
Peep Show
's Super Hans - along with writing partner Steve Edge, and Steve Coogan is also on board as a producer, so there's a strong pedigree behind the show.
Starlings
is perfect viewing for a sleepy Sunday evening.
Watch a trailer for
Starlings
below:
Once Upon a Time: Sunday at 8pm on Channel 5
We're absolutely loving
Once Upon a Time
, but until now the fairytale mystery has been a little bit light and fluffy. All that changes by the end of episode seven, when a
major
twist turns up the heat in Storybrooke. Seriously, the final few minutes of this episode are shocking, heartbreaking and will potentially have you throwing things at the TV. But before the rug is pulled from underneath us, we get to explore the past life of Sheriff Graham (Jamie Dornan) and
finally
discover his fairytale equivalent - is it the character you're expecting?
Watch a sneak peek of the next
Once Upon a Time
below:
What are you looking forward to watching this week? Let us know below!