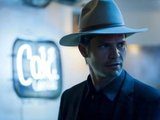 This week promises to be an exciting one, filled to the brim with top TV. The time has come for us to witness the finale of the second series of BBC courtroom drama
Silk
. Tense moments all round! But not everything's coming to an end. In fact, we have some brilliant new shows coming your way this week too...
On the way is the five-part BBC drama
True Love
starring David Tennant and Billie Piper. But sadly for any
Doctor Who
fans out there, the show doesn't involve the two of them getting together!
If that revelation has made you a little weepy, do not fear, we also have brand new episodes of
Prime Suspect USA
- a remake of the hit British series for across the pond. Keep reading for the lowdown on this week's must-see TV shows.
True Love: Sunday - Wednesday on BBC One
Oh, the gift of a BBC drama! David Tennant stars in this original new show as a married father who is left confused after the return of his first love into his life. Tennant's character starts to question his whole existence, wondering if he can capture the life he had in the past. The series is improvised in most parts (a daring first for the BBC), exploring five overlapping love stories in the seaside town of Margate. Each episode follows a different character, intertwining all five stories together. This stormy drama is sure to keep you all captivated and may cause you to ask yourselves what true love really is.
Watch the trailer below:
Ukraine's Forgotten Children: Monday at 9pm on BBC Four
This enlightening documentary follows Kate Blewett's (
Bulgaria's Abandoned Children, The Dying Rooms
) footage filmed over a period of six months in a children's home in Ukraine. The Ukrainian system brands an estimated 80,000 children "incapacitated" when some would be able to live independently, while keeping terminally ill children in institutions without professional medical care.
Here Blewett meets the struggling staff who are striving to do their best by the children. She also talks to former inmates who were forced into psychiatric units where they were abused and used in slave labour. They are now fighting for their lives to change their unjust categorisation in court. There is no melodramatic narration here - the distressing facts do all the talking.
Watch part of Blewett's other film
Bulgaria's Abandoned Children
below:
Silk: Wednesday at 9pm on BBC One
This week sees the final episode of this plot-twisting show. Series two has been been building up to this very episode, in which Martha must defend notorious criminal Jody Farr, who was responsible for the death of her client Brendan Kay. The case has seen moments of impossibility for Martha but she refuses to let it get to her, until she suspects that Farr may not be getting a fair trial. Maxine Peake leads the mighty cast to the tribunal where the case comes to a head in what promises to be an explosive finale. Loyalties are pushed to the furthest boundaries as Martha aims to untangle the mess that the case has left behind.
Watch the series two trailer below:
Prime Suspect USA: Monday at 10pm on Universal
Yet another British hit hoping for similar success in the States, this series was unfortunately axed after one season. However, we still get to see it over here in the UK. Emmy Award-nominated producers Peter Berg and Alexandra Cunningham bring us a 're-imagining' of the original series, taking a look inside a New York homicide department.
There is certainly nothing suspect about the casting of this show. Maria Bello makes the lead character her own without a hint of Helen Mirren creeping in. The first episode sees Bello's character Jane Timoney battling sexist colleagues and not being considered for a case that should have been hers. Timoney turns to her supervisor for help but disaster is soon on the horizon.
Watch a trailer for the show below:
Justified: Wednesday at 9pm on 5USA
The finale of season three is sure not to disappoint, but you won't be seeing anything similar to the poignant finale of season two. In 'Slaughterhouse', we see the battle between Raylan Givens (Timothy Olyphant) and Quarles (Neal McDonough) come to a head. A massive showdown occurs as Quarles's future is endangered after Raylan discovers that he killed state trooper Tom Bergen in the previous episode. Also in this episode, we find out where the true loyalties of Raylan's father Arlo lie. The season finale of
Justified
looks to be as strong and explosive as the rest of season three.
Watch the trailer for the finale of season three below:
What are you looking forward to watching this week? Let us know below!