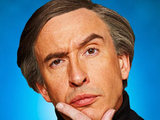 There's still plenty of sport on the telly for those of you who enjoy that sort of thing - Euro 2012 continues in earnest and Wimbledon kicks off on Monday, June 25. But for any non-sporting folk, there's still plenty of quality TV to enjoy...
Over the next seven days, you've got some of the very best in British comedy and drama to look forward to, plus some good old-fashioned guilty pleasure television! Read on for all the details...
Alan Partridge - Welcome to the Places of My Life: Monday (June 25) at 9pm on Sky Atlantic
A-ha! Sorry, but we had to - Steve Coogan's genius comic creation Partridge is back, following an extended absence, in the first of two specials for Sky Atlantic. Norfolk's most notorious broadcaster takes us on a "Partridge pilgrimage" or "Partrimage" - acting as a tour guide around his favourite destinations. The appeal of Partridge hasn't lessened with time and
Welcome to the Places of My Life
is filled with some classic one-liners ("If you get
The Guardian
, you get a free chocolate bar." "Yes... and you also get
The Guardian
.") - it's good to have you back, Alan!
Watch a trailer for the new
Alan Partridge
special below:
Veep: Monday (June 25) at 10pm on Sky Atlantic
It's an Armando Iannucci double bill on Monday night - stay tuned once
Partridge
has wrapped for the series premiere of the
Thick of It
creator's new US political satire.
Veep
stars
Seinfeld
legend Julia Louis-Dreyfus as Selina Meyer, the somewhat unwilling Vice-President - or 'Veep' - of the United States. Iannucci's razor-sharp scripts and a strong ensemble cast - including
Arrested Development
's Tony Hale - ensure that the laughs keep coming thick and fast. Plus, a second season has
already been confirmed
, so there's plenty more to come from Meyer and co. in the future!
Watch an HBO trailer for
Veep
below:
Line of Duty: Tuesday (June 26) at 9pm on BBC Two
If you're gutted that
Silk
is over, worry not - the show's Tuesday 9pm slot is being filled for the next five weeks by stylish cop thriller
Line of Duty
. Acclaimed Brit actor Lennie James is centre stage as corrupt detective Tony Gates, head of an elite police unit that may be manipulating facts for their own ends. James is backed by a strong cast - including
This Is England
's Vicky McClure,
Sweet Sixteen
's Martin Compston, and, in a rare dramatic role, Neil Morrissey - in this solid drama from
Bodies
creator Jed Mercurio.
Watch the trailer for
Line of Duty
below:
The Bachelor: Friday (June 29) at 10pm on Channel 5
Alright, we'll admit it, this is guilty pleasure telly at its worst, but we're so excited for series two of
The Bachelor
UK! Following in the footsteps of Gavin Henson -
who found love... erm... briefly... last year
-
Made in Chelsea
star Spencer Matthews is looking for Mrs Right and we're sure going to enjoy watching as he narrows down his options from
24 lovely ladies
to The One! Car crash telly? Certainly. But enormous fun? Definitely.
Watch a promo for series two of
The Bachelor
below:
The Hollow Crown - Richard II: Saturday (June 30) at 9pm on BBC Two
If you're feeling a little dirty after
The Bachelor
, why not restore the credibility of your TV-watching a little with the BBC's new Shakespeare adaptations? The first of four new films,
Richard II
stars
The Hour
's Ben Whishaw in the title role and boasts an incredible supporting cast, including Patrick Stewart, Rory Kinnear, David Suchet, Lindsay Duncan and David Morrissey. Watch out for the next instalment too -
Henry IV
starring Jeremy Irons and
Thor
's Tom Hiddleston, who will also play the lead in
Henry V
. Sam Mendes (
American Beauty
,
Skyfall
) is executive producer on this classy, absorbing film quartet.
Watch a clip from
Richard II
below:
What are you looking forward to watching this week? Let us know below!