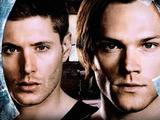 As Tom Petty once said, the waiting is the hardest part - well this week,
Tube Talk
is pleased to announce that the wait to see some of the biggest moments in US telly from the past few months is finally over.
In the next seven days,
Walking Dead
fanatics plagued by a lack of satellite TV will be able to see the most jaw-dropping episode of season two yet,
How I Met Your Mother
's big wedding twist will play out and scary will get sexy again with the long-awaited launch of
Supernatural
season seven...
The Walking Dead: Monday (July 30) at 10pm on Channel 5
If you're a
Walking Dead
fan who was unable to catch the series on FX, but has admirably avoided doing naughties and watching season two online, then this week's episode 'Better Angels' is the reward for your patience. It is
huge
.
We're not going to give too much away (though you must be some kind of sorcerer to have avoided spoilers in the four months since it aired in the US), but we can say that this penultimate instalment of the season begins with the survivors holding a funeral for Dale, before splintering over what to do with Randall (Michael Zegen), leading to... ooh, something amazing, we assure you! Trust us, you'll be chomping at the bit (get it? Because, zombies!) for next week's finale after this.
Watch a sneak peek of this week's episode of
The Walking Dead
below:
Vexed: Wednesday (August 1) at 9pm on BBC Two
Quite a few people weren't sure what to make of the BBC's detective-mystery-comedy-thing
Vexed
during its brief period on air in 2010, but we've been assured by the cast that this second series is a lot stronger - and who are we to doubt them?
Toby Stephens is back as the cocky, incompetent DI Jack Armstrong and this time he's joined by
Spooks
actress Miranda Raison as DI Georgina Dixon, who is replacing original lead actress Lucy Punch. Only time will tell if the new duo are dynamic or dull - but if Raison can boast banter like that in the clip below from series one, then perhaps this could be
Vexed
's moment to shine.
Watch a clip from
Vexed
series one below:
Big Brother - The White Room: Wednesday (August 1) at 9pm on Channel 5
If you're one of the... um, millions... who've abandoned Big Brother in recent times, then you might want to venture back for this Wednesday's special show, as host Brian Dowling unleashes on the housemates possibly the most intense twist in the competition's 13 years on air.
Contestants will be locked away inside the 'White Room', a claustrophobic area specifically designed to push them to the limit by recreating a feeling of emptiness that, for most, will become simply too much to bear. The person who copes best will be given a £25,000 prize, a Golden Ticket to the final... and presumably an urgent appointment with a psychiatrist to recharge. If you've condemned Big Brother for straying from its social experiment roots, then this would be the week to give the grandaddy of reality TV another chance.
Watch the Big Brother Australia 'White Room' twist below:
Supernatural: Wednesday (August 1) at 10pm on Sky Living
It may have taken over
ten months
to make it here from the US, but the season seven premiere of
Supernatural
finally arrives on Sky Living this week. How we've missed Jensen Ackles's grunting and Jared Padalecki's lovely, flicky hair.
Episode one, 'Meet The New Boss', sees the Winchesters summon Death in a bid to rein in Castiel (Misha Collins), who's gone a little power-mad in his new role as God. Shockingly though, getting tangled up in the affairs of the Grim Reaper and the Almighty has some pretty major consequences. It's an epic episode, one that makes us wonder how we coped for so long without Sam and Dean in our lives. It's good to have you back, boys!
Watch the promo for
Supernatural
season seven below:
How I Met Your Mother: Thursday (August 2) at 8.30pm on E4
Season seven of
HIMYM
draws to a close this week with Robin (Cobie Smulders) desperately trying to get a good photo of Lily (Alyson Hannigan) and Marshall's (Jason Segel) baby, and Ted (Josh Radnor) running back to his ex in a bid to find true love and a few more bits, but the main reason for tuning in is to
finally
discover the identity of Barney's (Neil Patrick Harris) mystery bride.
His current girlfriend Quinn (Becki Newton) is the frontrunner at the moment, but surely that's a little too obvious for the notoriously twisty
How I Met Your Mother
? And who knows, maybe we'll get our wish and it'll be Robin rocking up in a white gown. That would be legend - wait for it....
Watch a clip from the
How I Met Your Mother
finale below:
What are you looking forward to watching this week? Let us know below!> Olympics: London 2012 TV Guide - Week Two