Primeval
finally arrived this week and made an instant splash in the ratings, averaging over 7 million viewers for its premiere on Saturday night. But it seemed to divide opinion - many of you have been quick to point out some of the pretty obvious flaws in the show (but since when did
Doctor Who
ever qualify as believable?) while many of you were happy to accept it for the undemanding piece of entertainment it is. Whatever your opinion though, I think we're all agreed on one thing - Ben Miller really is awful in it. More on what's to come in the weeks ahead down in the spoiler spot.
We have a few major premieres to look forward to in the coming week, toplined of course by the new series of
Life On Mars
, which gets straight back in there with a cracking premiere episode on Tuesday. Full scoop in the you-know-where.
Rescue Me
is also back this week - Thursday at 10 on Sky One - which you really shouldn't miss if you have any ounce of self-respect.
As always, a full rundown of upcoming premiere dates can be found on the
Premiere List page
, including details on the much-awaited returns of
Criminal Minds
and
CSI: Miami
next month.
Also airing this week, straight after the Brits on Wednesday, is a one-off comedy called
The Abbey
, written by and starring Morwenna Banks. Now ITV should be applauded for actually commissioning comedy of late - but alas, like
Benidorm
, this latest effort also fails to raise a laugh. This despite starring the genius Russell Brand (who has the only funny scene, trying to seduce an OAP) and the always-ace
Rasmus Hardiker
. Good ratings would mean that this show could still go to series - although it would be better suited to Five than ITV.
This year I'm part of the panel that will pick the shortlist for the Pioneer Audience Award at the Bafta TV awards in May... and I need your help with suggestions. So what was your programme of 2006? Join the debate over on the forums or email me directly with your thoughts.

UPDATE: I get the message. Top Gear should be considered for the shortlist. Please stop spamming me!

Every week in the run-up to the much-anticipated
Heroes
premiere in the UK, Tube Talk will be profiling a different Hero.
This week we take a closer look at Peter Petrelli, who may just have the most enviable power of them all...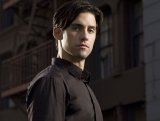 Character:
Peter Petrelli
Actor:
Milo Ventimiglia
Powers:
Power mimicry
Occupation:
Nurse
Location:
New York, New York
Profile:
Peter Petrelli is troubled. He's been having vivid dreams in which he can fly, but now he's starting to believe that he can for real. His claims are laughed off by his brother, aspiring politician Nathan Petrelli, but what secret is Nathan hiding?
Video:
Click
here
to watch clips of Milo in action on the show and talking about his character.
Plus:
Have a read of
my theories (Spoiler Spot)
on how Peter could hold the key to everything.
Don't forget, Heroes begins Monday, February 19 at 10pm on Sci Fi UK
Mikie: "Loving Tube Talk, great work! Any news on Kath and Kim? Over here or in Oz? Thanx!!"
Neil: The fourth season is currently being shot - Matt Lucas has a cameo role - and will air in Oz towards the end of this year.
Sheila: "Hi, I just wondered if you had any idea when the new series of Bones was coming back to Sky? It doesn't get a mention in your premiere page."
Neil: Bones is back this thursday at 9pm, just before the brand new season of Rescue Me (which is absolutely not to be missed!)
Ryan: "Hi Neil, with all BBC shows ever getting split into 3 parts these days and the final Robin Hood DVD out soon, any idea if we can see a complete season set soon? I'm hoping I won't have to wait until Winter 2007, but I have an odd feeling that's how it's going to go!"
Neil: I have nothing on a complete set at the moment, but I imagine it will happen - and your feeling is probably right.
Anon: "Any idea when Grey's Anatomy season 2 will get a UK release? Hopefully we won't have to wait for five to finish with it? Also, since ABC1 dropped Ellen - will it be reappearing on any channel soon?"
Neil: No word on season two yet (which airs mid-March on Five, while we're at it) but I'd guess early summer. I think Ellen is just being "rested" for the moment, but will probably return at some point.
Laura Louise: "Is channel 5 going to show Big Love this year? It was a great first season."
Neil: I've heard end of March.
Melanie: "Any news on when Brothers & Sisters is going to begin airing in the UK? I have been downloading it and I absolutely love it! I remember last year hearing that ABC and Channel 4 worked out a deal before the upfronts. I think it'd be a fantastic replacement for Lost but have heard nothing about it starting!"
Neil: Apparently Channel 4 has a deal with Buena Vista that gives it first dibs on any new shows each year - Brothers & Sisters was signed off on a good few months before the upfronts, for example. My slightly informed guess is that it will take the Desperate Housewives slot from May.
Chris: "Do you know if The CBBC show on BBC2 "TMi" Will be returning or has it ended for good?"
Neil: This has been quite a decent little show on Saturday mornings - ratings-wise and editorially - so I'd fully expect it to come back.
James Kenny: "Hi love the column, I was watching the Superbowl yesterday and CBS ran an ad for Rules of Engagement. Has anyone in the uk picked it up and are there anymore mid-season shows coming our way?"
Neil:
Rules of Engagement
went to Paramount Comedy (more
here
at CBS for the interested). Other midseason shows include
The Black Donnellys
(ITV2),
Raines
(ITV3),
The Winner
(ITV2) and the rather excellent
Hidden Palms
(Sky One).
Soz: "Do you know if Sky One are planning on screening the first 2 episodes of 24 (Day 6) at any point soon?"
Neil:
There are no plans for a catch-up any time soon, however if you are desperate to catch the first two eps you can import
this DVD
from the US, which contains hours one to four.
Jubean: "How is Jericho going in the US and why aren't you promoting it more in the column? It's brilliant!"
Neil:
OK, I'll come clean - I actually switched off after the
first episode
.
Michael: "Somebody complained about lack of UK show questions so here are some although you probably won't answer them as they have nothing to do with U.S shows. Will there be another series of Sugar Rush on Channel 4? If so is there a predicted air date? Will there another series of the BBC 3 series Sinchronicity as the last ended on a bit of a cliffhanger?"
Neil: How pessimistic of you, Michael. A third series of Sugar Rush is expected to land early summer - hopefully I'll have more details on that soon. No second series for Sinchronicity.
Lowri: "Hi, do you know the release date for The Office US series 2 on DVD? I see some online retailers are saying 16th of July but amazon.co.uk says 1st of June. Can't believe I'll have to wait so long either way! Thanks!"
Neil: I'm told it's July 16, but that could change.
Jonathon: "Did something happen to Friday Night Lights getting shown on the 9th on ITV4? It's not on the Sky Guide, even though that's what the premiere page says. I was really looking forward to seeing this show."
Neil: Change of plan. It's now not on Friday nights, but Wednesdays instead, beginning on the 21st.
Maxine Clifton: "Hi Neil, Hope you are well and having a good start to the year. This is the first time I have been on this website and am finding it very interesting. There are 2 things I would like to ask if you don't mind. Firstly do you know if there will be a 3rd series of Doc Martin (which is brilliant) and does Martin Clunes have a fan club?"
Neil: Hi Maxine, welcome to DS. A third Doc Martin will be filmed shortly for broadcast towards the end of the year. As far as I'm aware there is not a Martin Clunes fanclub in existence, but there's nothing to stop us from starting one...
John: "I know that the power that be in America stupidly decided to cancel Invasion after one season but is there even the slightest chance they might resurrect it? It left on such a cliffhanger and one one of my highlights of 2006."
Neil: If I had a pound for every time I was asked this question, I could just retire now and spend my days stalking Milo Ventimiglia. Unfortunately Invasion is not returning, although I'm sure everyone will agree that William Fichtner (aka Senor Lobeless) is doing a great job kicking ass in Prison Break this season. Incidentally Surface is also not returning - but contrary to what I said a couple issues back, the complete series IS now being released on R2 DVD. March 26 is the date.

As always, select the area to the right of each programme to read the text - but be warned that you may well be spoiled.
Primeval:
The pace slows in the second episode somewhat, as the gang takes on a bunch of prehistoric creepy crawlies wreaking havoc on the tube. A confrontation with a giant and angry centipede leaves one of our leads hospitalised, while Nick's wife Helen is most definitely alive and back on the scene. More on her story unfolds the week after when - wait for it - Nick actually comes face to face with her back in the land of the prehistoric. Primeval airs Saturday nights on ITV1
Life On Mars:
Series one revelations aside, Sam is straight back on the job in the new series. An investigation into a series of violent attacks leads him to Tony Crane (guest star Marc Warren), a mobster he managed to put away back in the present day. So Sam sets about trying to lock up Tony back in 1973, preventing him from raping and then brutally murdering his wife Eve thirty years later. But back in the present day, Tony Crane has found freedom - and Sam's hospital bed! Meanwhile, Sam learns more about what has been happening to him and - look away if you don't want the hint - via a phone call is told that "the job is almost done" and when it is, he'll be allowed to go back home. Life On Mars airs Tuesdays at 9pm on BBC One
Skins:
OK, so last week was a bit of a yawnfest but things really rachet up again this week, which has Chris (played by Joe Dempsie) at the focus. Fans of nudity won't be disappointed as there are numerous organs - mostly belonging to Joe - flapping around everywhere. But there's also some great acting on display from our lead of the week, especially when Chris pays a visit to a grave and is comforted by Jal. This is also the episode that was heavily featured in the trailers before the show aired - it's party time! And Cassie finally scores a date with Sid. Skins airs Thursdays at 10pm on E4
Skins scandal update:
As I revealed last week, in episode 6, gay character Maxxie will be getting some oral pleasure from one of our straight leads. I've had plenty of guesses in my inbox this week - mostly incorrect - so I'll make things a little easier and rule out a few possibilities. So it's not Anwar. And it's not Sid. But it's definitely a male character... Skins airs Thursdays at 10pm on E4
Supernatural tease:
I'm fresh from chatting with show scribe John Shiban who gave some great teasers on what to expect throughout season two. The full scoop on that in the next column, but for now I can tell you that the boys' dad - last seen sacrificing his life in the premiere - WILL be back again, in some form or another... Supernatural airs Sundays at 9pm on ITV2
Send your requests for shows to be featured in the Spoiler Spot to the usual place.
So that's all for this week. In next week's show we have exclusive gossip on
Supernatural
and your next new addiction, the fabulous
Kyle XY
,
PLUS
, if the DS postman doesn't get to the DVDs first we should have some exclusive gossip on both
Lost
and
24
!
More next week!
Additional reporting by Krisp Green