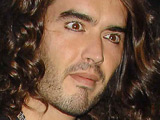 Russell Brand
has signed a $1 million (£500,000) deal to host this year's MTV Video Music Awards.
The comedian and actor will compere the ceremony, which will be broadcast live from Paramount Pictures Studios in Los Angeles on September 7.
Brand got his break as a VJ on MTV in the UK but was fired when he turned up to work dressed as Osama Bin Laden on September 12, 2001.
He told
E! Online
: "I didn't mention [the incident] to them when they offered me this gig, which leads me to believe that they haven't investigated my career history too closely."
Brand added that he is hoping to recreate a famous moment from the 2003 show.
"I'm planning to have lesbian kisses with Britney and Madonna individually," he said. "It's not going to be easy what with my genitals, but God, I will try."