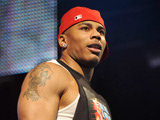 Nelly
is to join the cast of
CSI: New York
for a multi-episode stint, according to
Entertainment Weekly
.
The rap star, who previously appeared in comedy movie
The Longest Yard
, will play a club owner who provides valuable information to Mac and his team.
"He's a great actor," said executive producer Pam Veasey. "He really stepped up."
Pop group Maroon 5 will also make a cameo in the new season, which airs in the US from September.