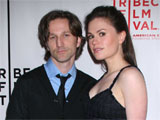 Breckin Meyer
is to guest star in an upcoming episode of Fox's medical drama
House
.
The actor, who recently signed up for a
multi-episode arc
in
Heroes
, will play an artist suffering from unexplained outbursts of rage.
A statement from a
House
publicist shed more light on the character: "Breckin guest stars on the show in the coming season as a struggling artist - a painter whose undiagnosed illness distorts his work and his perception, and threatens to undermine his career, his relationship, everything in his life."
Speaking to
E! Online
about his role, Meyer said: "They can't figure out what's wrong with me. A lot of things go wrong. I blow up like a balloon at one point. I get violent [with] a lady. I get inappropriate."
Meyer will appear in the third episode of the upcoming fifth season of
House
, which begins Tuesday, September 16 in the US.