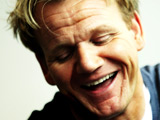 Gordon Ramsay
has signed a long-term deal with Fox,
Variety
reports.
The contract encompasses two more seasons of
Hell's Kitchen
and
Kitchen Nightmares
, along with a commitment for a new series and a live cooking special.
Fox's Mike Darnell said of Ramsay's deal: "He's been unbelievably good to this network. He's as much a staple for us now as Simon Cowell or Hugh Laurie."
Speaking about his partnership with Fox, Ramsay said: "They let me be me - that's the key to our success. And we properly understand each other: Fox wants to run a show, and I want to run a restaurant. I want to search for chefs. I try hard to keep it real, and I'm someone who takes all this very, very seriously."
Both
Hell's Kitchen
and
Kitchen Nightmares
have been strong ratings performers for Fox, with the former averaging 10.1 million viewers over the summer.
Ramsay's new series will be based on his upcoming Channel 4 show
Man Camp
, which will see him host a boot camp for men whose "ladies are slightly concerned about how feminine they're becoming".
The live cooking special will be similar to Channel 4's
Cookalong Live
, which encouraged viewers to follow Ramsay's recipes at home.
"This will not be for the blue-rinse brigade, or the Martha Stewart crowd," the chef explained. "This is cooking for the young, the vibrant and the tenacious."