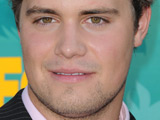 Levi Johnston
is reportedly shopping his own reality show to TV producers.
The former boyfriend of Sarah Palin's daughter Brooke is attending Hollywood pitch meetings in a RV/party bus, reports
Radar Online
.
An insider says the show is tentatively titled
Levi Johnston's Last Frontier
and will feature Johnston riding in "pimped out snow machines" powered by jet fuel.
The series will apparently take place in Alaska and also feature the aspiring actor hunting and hanging out with his friends.
The TV pitch positions the 19-year-old as "one of the world's most famous teenagers".
Palin recently
sold
an Alaska-based TV project to TLC. Last week, Johnston
said
his show would beat Palin's series in the ratings.