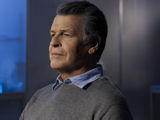 The executive producer of
Fringe
has described the upcoming
musical episode
as a "natural outcome".
The scenes represent a hallucination by Dr Walter Bishop, played by
John Noble
.
However, producer Jeff Pinkner admitted that the writers had not expected to include singing and dancing in the episode.
"We didn't set out to do a musical," he told
Entertainment Weekly
. "We set out to do an episode that explored Walter's state of mind - he's dealing with some very upsetting news."
Pinkner continued: "When we realised that the way Walter would deal with such news would be to try to anaesthetise himself with copious amounts of marijuana, well, singing and dancing became a natural outcome."
He also revealed that Anna Torv's character Olivia will feature heavily in the episode, adding: "It'll be interesting to see how Walter really perceives her."