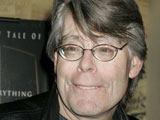 The producers of the upcoming Syfy drama
Haven
have revealed that it was author
Stephen King
who suggested introducing supernatural ideas into the series.
The show is an adaptation of King's 2005 novella
The Colorado Kid
, which features no paranormal elements.
"Initially, our idea was to stay close to the book. So it had no supernatural element," explained Sam Ernst. "But when King read it, the first thing he said was, 'Where's the supernatural element?'"
The producer revealed that while King was not directly involved in the television adaptation, he was pleased with the final version, which centres around a town full of people with strange abilities.
"Each week, we meet someone new with a supernatural affliction," said Ernst.
Fellow producer Jim Dunn agreed that the characters' abilities were an affliction and "not powers".
"That's the difference between a comic book hero [and a Stephen King character]," he said.
"The thing Stephen King does so well, is he takes normal people and has the world go sideways on them," added Ernst.
Haven
- starring Emily Rose, Lucas Bryant and Eric Balfour - will premiere this Friday on Syfy.