US TV News
Palicki: 'Lone Star is glossy, soapy'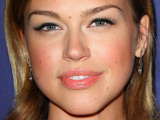 Adrianne Palicki
has promised that her new show
Lone Star
is "glossy" and "soapy".
The Fox series, set in the world of big oil, focuses on a man living a double life in Texas.
Speaking to
Popeater
, Palicki explained that she was drawn to the role of Cat because the character was "different" from her previous work.
"I do tend to play the girl from the wrong side of the tracks but they all tend to be strong women and she is as well," she explained. "Even though [Cat] comes from this really rich background, she still has her own issues. She still has daddy issues. She wants to get out of the socialite world."
Palicki added that she has loved working with Jon Voight, who plays her father on the show.
"He is one of the most lovely people I have ever met," she said. "He's such a giving actor and he's so sincere and he's really come in and been like, 'I'm Papa'. And at the same time, even though he's working with such a young cast, he's been completely involved and like one of us. He's goofy and funny."
Palicki also claimed that the show is like "
Dallas
meets
Friday Night Lights
", explaining: "I think it has that heart and that realism and at the same time it does have that glossy, soapy [feel]. So I think it's going to bring in a very dynamic audience. It's a very interesting concept for a show and I don't think it's been done before."
Lone Star
premieres on September 20 on Fox.