US TV News
Kristen Bell linked to 'Munsters' remake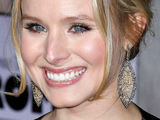 Kristen Bell
has been linked to a role in NBC's upcoming remake of
The Munsters
.
Earlier this month, it
emerged
that the network is developing a pilot of the show with
Pushing Daisies
creator Bryan Fuller.
Fans have now suggested that Bell could appear in the show as Marilyn.
According to
Entertainment Weekly
, Fuller responded: "Are you kidding me? Kristen would be perfect."
Fuller added that Marilyn will be more important to the series this time, saying: "She is our eyes into the world, in the sense that we can all relate to our families exhibiting some level of monstrous behaviour."
Fuller also suggested that he would like the revival to be more edgy than the original 1960s show.
"This version has teeth and isn't afraid to use them," he said. "For example, the story begins when young Eddie unexpectedly manifests as a werewolf on a scout camping trip and inadvertently eats two of his fellow scouts."
> Original 'Munsters' star slams remake