US TV News
Possible second season of 'Firefly'?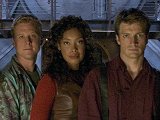 Rumours have been circulating of a possible second series of Joss Whedon's
Firefly
filmed by fans.
An entrepreneur named Ace Underhill has been making efforts to produce a second series of the television show that was cut by Fox network after only 14 episodes. A fan of the original series and its spin-off movie,
Serenity
, he purportedly intends to make the series available for alternative media, such as pay-per-view downloads.
Underhill has said that he has contacted members of the
Firefly
cast and had received a few rate quotes from agents, but he declined to say who. He acknowledged that he had not yet heard from
Firefly
star Nathan Fillion.
Firefly
and
Serenity
fans, who call themselves Browncoats, are suspicious of Underhill's motives and methods, and the entrepreneur has
gone on a Browncoat fan forum to answer questions.
A spokesman for Joss Whedon, creator of
Firefly
and
Serenity
, told
SCI FI Wire
that Whedon has never heard of Underhill: "Joss doesn't really know anything about that guy, and I don't really think he has a comment," he said in response to questions about Underhill's efforts.
In response, Mr Underhill said in an interview: "If he contacts me and says, 'Hey, we're not interested in
Firefly
anymore' or 'I'm not interested in
Firefly
anymore,' then I will abandon the project, and essentially it's over at that point. I'm not looking to create a cheap knockoff of the series without Joss' input.
"But I'm hopeful and I'm keeping on it, and I'll put my perseverance on it and try to stay with it for the long haul. I understand it's not an overnight process, and I don't expect it to be, and I'm prepared for the long haul. ... At this point, I would say it's a long shot, but the chance exists."