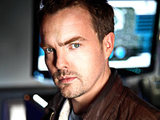 Primeval
star
Ciaran McMenamin
has claimed that his character Matt often resembles James Bond.
The actor told
Total Sci-Fi
that he hopes to combine "Roger Moore's acting with Daniel Craig's physicality" in the role.
"There are times [during filming] when you stand looking at nothing, or a tennis ball, and deliver a kind of tongue-in-cheek line," he explained. "You've got to remind yourself of the audience, because what you're making is heightened reality."
McMenamin added that he had initially struggled with the light-hearted nature of the show.
"I've found myself a few times on the verge of turning round to the director and saying, 'I can't say that!'" he admitted. "And then you go, 'Yes I can, because it's the style of the show'. You've just got to remind yourself what you're doing."
He also revealed that the upcoming fifth episode of the fourth run will include "a pretty full-on fight sequence".
"It's brilliant [and] it's quite brutal," he said. "The physicality [of the role] has been challenging in a good way."
Primeval
continues this Saturday at 7pm on ITV1.