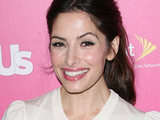 Fairly Legal
star
Sarah Shahi
has claimed that male viewers are "easy" to attract.
The actress suggested to
Entertainment Weekly
that it is easier to draw in men than their female counterparts.
"You can get a man's attention if you got a pair of boobs and a butt," she said. "I hate to simplify them down so much, but I think it's true."
She argued that female viewers are more discerning with regards to other women on television.
"Girls... are harder to get on your side because we not only have to like the way females look, but they have to impress us with their wit and their intelligence, and we have to feel like we can relate to them."
Shahi also claimed that her new USA comedy-drama will reverse traditional gender roles and objectify male characters such as Justin (Michael Trucco).
"I love that I'm finally a part of something where I don't have to be objectified," she explained. "It's the boys that get to be objectified. Men are the new women."
Fairly Legal
airs on Thursdays at 10/9c.