US TV News
Olyphant 'always nervous about TV shows'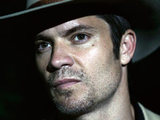 Timothy Olyphant
has admitted that he is often nervous about joining television shows.
Speaking to the
Wall Street Journal
, the
Justified
star explained that there are fewer surprises with film.
He said: "There's always trepidation to television in general, because you're committing to so many unknowns, as opposed to a film script, where you more or less have an understanding what the story is and where it goes and how it ends."
However, Olyphant insisted that he did not have many doubts about joining the cast of
Justified
.
"Elmore [Leonard]'s books and his writing in general, I'm such a fan," he said. "I always thought, 'God, if I could get my hands on an Elmore Leonard piece it would just be fun, it would just be a kick to do'. And [creator] Graham [Yost] was a smart guy and he and I had a lot of conversations, and it just felt like I couldn't find a reason not to do it."
The new season of
Justified
begins on February 9 at 10pm on FX.
> Natalie Zea teases new 'Justified'