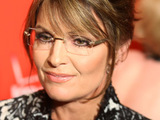 Kyle Massey
has hinted that Sarah Palin could make a guest appearance on her daughter Bristol's upcoming reality show.
It was announced Monday that
Bristol and son Tripp will move in with her former Dancing with the Stars co-star Kyle and his brother Christopher
in LA for a series slated to air on the BIO Channel.
When asked whether the former Alaska governor could guest on the new programme, Kyle told
Entertainment Tonight
that he "wouldn't rule it out", but quickly added that he's yet to receive any firm confirmation.
The actor was also quizzed about Bristol's claim that
undergoing a "corrective jaw" procedure, and not cosmetic surgery, altered the shape of her face
.
"I don't see the difference… I think she looks the same," Kyle admitted. "I think it's Bristol."
In late April, Bristol's ex-fiancé Levi Johnston announced that
he's inked a deal to pen a tell-all biography
called
Deer in the Headlights: My Life in Sarah Palin's Crosshairs
, which is to be released in September.
> Sarah Palin 'tell-all book' for May release
Watch the Massey brothers discuss their upcoming reality series below: