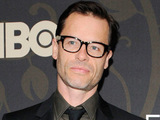 Guy Pearce
has revealed that he finds it awkward to go home to his wife after shooting a sex scene.
The
Memento
actor opened up about shooting sex scenes with Kate Winslet for the HBO miniseries
Mildred Pierce
, stating that while he did not find the scenes themselves to be difficult, he found it awkward to tell his wife about them afterwards.
"Doing the scenes was easy - going home to my wife afterwards was the tricky bit," the 43-year-old told
Radio Times
. "But she said if it had to be with anyone, she's glad it was with Kate Winslet."
Pearce
previously said that he finds sex scenes to be embarrassing
, claiming that though they can be "great fun", they are uncomfortable as well.
In early April, Pearce
described his on-screen sex scenes with Winslet as "naughty"
, confessing that he never found it easy to get naked in front of the camera.
Winslet
reportedly insisted on not having her breasts show in Mildred Pierce
. In 2006, the actress
admitted that she hates shooting sex scenes
.
Mildred Pierce
airs on Saturday at 9pm on Sky Atlantic.
Watch a teaser of
Mildred Pierce
below: