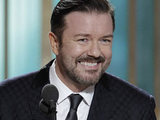 Ricky Gervais
has claimed that NBC has expressed an interest in him returning to host the Golden Globes for a third time.
The
Extras
comedian caused controversy following his second appearance as host of the awards ceremony earlier this year, with the Hollywood Foreign Press Association's president
saying that he had "definitely crossed the line" with his various jokes during the evening
.
Gervais told
E! News
in a statement that the channel would like him to return, but it is unlikely to happen due to the uproar that was created after January's event.
"NBC has indeed asked me to consider doing it again," he said. "However, I think the Hollywood Foreign Press would need an awful lot of persuading.
"I would love to work with NBC again as they have been nothing but supportive and honourable but I'm not sure a third hosting would be as much fun as the second. Never say never though."
Gervais recently unveiled plans to
produce a sitcom spinoff with Life's Too Short co-stars Les Dennis, Shaun Williamson and Keith Chegwin
.
> Ricky Gervais: 'Globes jokes didn't offend'
Watch Ricky Gervais's opening monologue at the 2011 Golden Globes below: