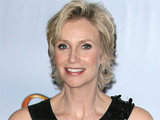 Jane Lynch
has been seen jokingly slapping an Emmy crew member backstage.
While presenting the award for 'Outstanding Directing for a Variety, Music or Comedy Series',
Vampire Diaries
star Ian Somerhalder praised the showrunners for dealing with "difficult talent".
The camera then cut to a shot of host Lynch slapping an Emmy crew member backstage at the show.
On realising the camera was turned on her, the 51-year-old smiled sheepishly.
Somerhalder was joined by
Glee
's Lea Michele to present the accolade. The two followed up The Lonely Island and Michael Bolton performing a medley of the group's most popular songs.
"Wow, nothing we say is going to be funny now," Michele noted.
More from the Primetime Emmy Awards 2011
:
> 'Modern Family', 'Downton Abbey' dominate the 2011 Primetime Emmy Awards
> Kyle Chandler wins Emmy for 'Friday Night Lights'
> Primetime Emmys 2011: Peter Dinklage wins Emmy for 'Game of Thrones'
> Primetime Emmys 2011: Charlie Sheen: 'I wish Two and a Half Men the best'
> Primetime Emmys 2011: The major winners
Watch Jane Lynch's opening Primetime Emmy Awards skit below: