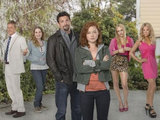 Jeremy Sisto
's ABC sictom
Suburgatory
is heading to E4 in the UK.
Suburgatory
follows the story of single father George Altman (Sisto), who moves out of New York City to the suburbs after he finds a packet of condoms in his daughter Tessa (Jane Levy)'s bedroom.
The 16-year-old indie kid's shift from the city to a world of "mums who want to be her friend, malls, blonde and bronzed teens, tight jeans, sugar-free Red Bull, whiter-than-white teeth, lip gloss and so much mascara as to render blinking impossible" is the focus of the comedy.
Sisto (
Clueless
,
Six Feet Under
), Levy (
Shameless
USA), Carly Chalkin (
The Last Song
), Allie Grant (
Weeds
), Cheryl Hines (
Curb Your Enthusiasm
), Alan Tudyk (
Knocked Up
) and Rex Lee (
Entourage
) star in the 22-episode first series.
Channel 4's head of acquisitions Gill Hay said: "We are incredibly excited that
Suburgatory
will join our comedy lineup on E4, reinforcing our commitment to offer our viewers the best of US Comedy.
Suburgatory
is whip smart, snarky and sweet in equal measure and as such is a perfect fit for E4."
Subugatory
is created and exec produced by Emily Kapnek (
Hung
,
Parks and Recreation
).
> Clueless Alicia Silverstone, Jeremy Sisto reunite on Suburgatory
> Robin Givens to guest star in Suburgatory
Watch the trailer for
Suburgatory
below: