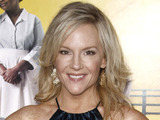 Rachael Harris
has landed a role in a CBS pilot.
The comedy, which is being produced by husband and wife Ben Falcone and Melissa McCarthy,
focuses on a man who ends up living with his parents
again because of the tough economic climate.
Falcone will play the lead role and Harris has now also joined the cast,
Deadline
says.
She is expected to play a mother of three and the sister of Falcone's character.
Harris recently
signed up for a guest role in New Girl
and has previously starred in shows such as
Notes From The Underbelly
and
Reno 911!
Her movie credits include
The Hangover
and
For Your Consideration
.
Other CBS comedy pilots currently in the works include
friendship sitcom Partners
, a
project starring Greg Grunberg and JoAnna Garcia
, and a
show from Louis CK which features Ashley Tisdale
.