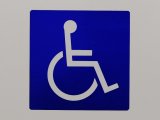 The Phobia
: Wheelchairs
The Cause
: Doctor Who (various episodes)
We all know that in the real world there's no correlation between physical disability and a tendency to be evil, but in the realms of cult television, one glance at a wheelchair-bound soul may well be enough to create a shudder...
Just look at the respective creators of the Daleks and parallel earth Cybermen - Davros and John Lumic. Both highly malevolent chaps needed motorised chairs to travel round in and were hellbent on conquering the universe using their creations. Delving deeper into their psychological condition does show that they're far from your usual one-dimensional villain who was simply born evil. For their psyches seem to have been embittered by the unfortunate phsyical state they're in, which is shown in the way the monsters they developed are transportation devices in themselves. The Daleks effectively carry a Kaled mutant behind their polycarbide armour, whilst Lumic's Cybermen are a vehicle for the brain.
Memorably, Lumic only transcended the shackles of his disability once his brain was transported into the Cybus-branded cybernetic being, which recalls the changes to Dr Judson in the 1989 story 'The Curse of Fenric'. A wheelchair-bound invalid, Judson was a miserable but ingenious expert at decoding inscriptions, with a penchant for insulting his poor carer Nurse Crane. Alas, his skills were to prove his downfall, as he cracked the code which released the contents from a Viking flask into his body, where he rose to his feet possessed by the form of the evil Fenric.
However, a trip back in time to the swinging sixties era of
Doctor Who
does portray the depiction of wheelchairs in a far more positive light. For in 1964's 'The Dalek Invasion of the Earth', the underground resistance fight against the mutant invaders was led by the inspirational wheelchair-bound figure of Dortmun. Masterminding a series of guerilla attacks on the foes, he designed special acid bombs in a bid to peirce the outer casings of the Daleks. Sadly he endured a tragic demise, rising to his feet with the last drop of energy in his body and launching a bomb at his nemeses. It didn't work and a swift extermination followed...