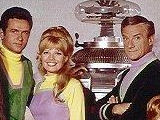 Cult Spy Icons: Zachary Smith from Lost In Space
His quest to thwart the virtuous Robinson family tempered by buffoonery and compassion,
Lost In Space
's Dr Zachary Smith was one of the most rounded villains to grace 1960s screens. While the character started life as a purely dark, one-dimensional cult baddie, the actor Jonathan Harris was reportedly unhappy with this paper-thin persona, and decided to alter Smith's basic attributes. Instead of the archetypal vicious antagonist, Dr Zachary Smith morphed into a funnier, lighter nemesis, his bumbling evil plots foiled at every turn.
Lazy, cunning, cowardly and out to save his own skin at any cost, Smith didn't care much about the Robinsons, who reluctantly accepted him into their family and eventually grew to trust him. He was perpetually searching either for the next route home, or for a way to ensure his own survival, whether that meant hijacking the ship by pressing a gun to pilot Don West's head, or offering a hostile alien race the use of child prodigy Will Robinson's brain instead of his own. Egocentric with no just cause, Smith was utterly amoral when it came to making sure his own basic needs and safety were assured.
Famous for his many catchphrases, including "Oh, the pain, the pain!", "You Neanderthal ninnies!" and "You bubble-headed booby!", Smith prided himself on his intelligence and superiority. Ironically, this perceived intellectual pre-eminence was far from the truth, as Smith was primarily responsible for foolishly landing the Robinsons in life-threatening situations. He fell in love with the mother of a cannibalistic extra-terrestrial clan, threw an explosive into a bog and created a monster, and became entangled in an ill-advised love triangle. Even aliens confirmed his idiocy when they chose him to be leader of a civilisation – as they had decided to select only the most pathetic universal specimens as food for their Gods.
However, while Smith was seen by many as a conniving farcical enemy existing mostly for comic effect, he often displayed a more human, empathic side. From his genuine tears on inadvertently turning the youngest Robinson daughter, Penny, into platinum, to his efforts to save eldest daughter Judy from a tragic death, his ambiguous "not all bad" character traits brought an intriguing depth to the show. At a push, Dr Zachary Smith could even have been called "lovable" -and, with his total lack of self-awareness and humility, the character himself would probably have agreed.