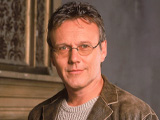 The BBC and Fox will collaborate on a
Buffy The Vampire Slayer
spin-off starring Anthony Stewart Head entitled
Ripper
, according to a report.
The
Daily Star
quotes a source as saying that
Buffy
creator Joss Whedon is "keen to work with the BBC" and that "they've got the green light to start filming".
According to the alleged insider,
Ripper
, which has been mooted since
Buffy
finished in 2003, "will follow Bufyy's mentor Giles (Head) after he decides to come out of retirement in his native England to solve ghost stories and other mysteries".
The report claims that the show will enter production next year. The BBC has yet to confirm or deny the claims.