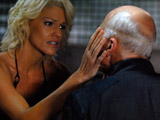 Desperate Housewives
actor Roger Bart has been cast in a legal drama in development for ABC.
Bart will play Cliff, a partner at a law firm in the untitled show from
How I Met Your Mother
writer David Hemingson.
Meanwhile, British actor James D'Arcy (
Churchill at War
) has taken the lead role on a sci-fi pilot from
Battlestar Galactica
creator Ronald D. Moore.
The show is set on a starship on a ten-year journey from Earth.
The ship is equipped with virtual reality machines to help the astronauts escape the boredom and D'Arcy, as psychology officer, is in charge of setting up the adventures.