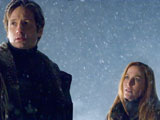 The producer of the forthcoming
X-Files
movie sequel has explained why it took so long to enter production.
"The studio executives approached us to do another movie while the series was still on air in 2001,"
Frank Spotnitz
told
SFX
magazine. "But we were still doing TV. And the series ended and that took up some time, and we started negotiations..."
However, legal obstacles ensured that the follow-up to the 1998 film
X-Files: Fight The Future
was significantly delayed.
"There was a lawsuit and everything stopped," revealed Spotnitz, who also co-wrote the new movie. "I don't know precisely what it was about - I think it was about money. But the lawsuit got resolved late last year. After that, things started rolling rapidly. I really didn't think it was going to happen!"
> Click here for our look at the rise and fall of The X-Files