Cult News
'Lost' named 2010's most pirated TV show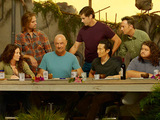 Lost
has topped a list of the top 10 most pirated US television series for 2010.
Episodes of the ABC drama, which ended its run in May, were illegally downloaded almost 6 million times this year, according to
TorrentFreak
. The figure is a slight dip from 2009 figures, which also saw
Lost
top the list.
Axed NBC series
Heroes
came in second with around 5.48m downloads, up on the show's estimated television viewership of 5.3m. Showtime drama
Dexter
was third in the list, with 3.88m downloads again topping the show's estimated viewing figures of 2.54m.
Other shows that made the top ten include Fox's
House
and
24
, which placed fifth and seventh respectively. Fox was the worst hit network overall, with
Glee
and
Family Guy
also charting.
The full top ten list of 2010's most pirated television series is as follows:
1.
Lost - 5,940,000
2.
Heroes - 5,480,000
3.
Dexter - 3,880,000
4.
The Big Bang Theory - 3,270,000
5.
House - 2,610,000
6.
How I Met Your Mother - 2,490,000
7.
24 - 2,240,000
8.
True Blood - 1,920,000
9.
Glee - 1,700,000
10.
Family Guy - 1,620,000