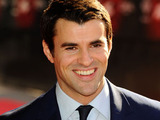 First it was confirmed that the USA would have to deal with
Cheryl Cole's Geordie accent
, then it was announced that our American friends will have to get their ears around
Steve Jones
's dulcet Welsh tones. While many in the US will naturally be saying "who?!" at the news that Briton Jones has been
picked to co-host their X Factor
, it's fair to say that a few eyebrows were also raised over here at the decision.
Should Simon Cowell have picked a safe pair of American hands to front the show alongside Nicole Scherzinger, or is the choice of ex-
Esquire
model and T4 star Jones actually a brilliantly inspired one? Let us know what you think in our poll below.
> In Pictures: The 'X Factor' USA judges begin work
> Steve Jones: His rise to 'X Factor' USA
> Video: Cheryl Cole's got the 'X Factor' job - but has America heard of her?
> Cheryl Cole: Her rise to 'X Factor' USA
> Poll: Is Cheryl Cole the right choice for 'The X Factor' USA?
> Simon Cowell: 'No-one turned down X Factor'
> Read our complete 'X Factor' USA coverage