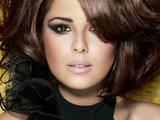 Fox has unveiled a new promo for
The X Factor
USA.
The 90-second clip introduces the US audience to newcomers Cheryl Cole and Steve Jones, as well as heralding the on-screen reunion of former
American Idol
judges
Simon Cowell
and Paula Abdul.
Also featured in the advert are various UK contestants including Aiden Grimshaw, Cher Lloyd, Mary Byrne and One Direction.
It ends up by telling viewers to prepare themselves for "TVs biggest event", before featuring familiar slogan, "It's time to face the music".
The four judges continue filming studio auditions in Chicago today, while open auditions conclude in Dallas on May 26.
The X Factor
USA will launch on Fox in the fall.
> Cheryl Cole, Paula Abdul 'to annoy Simon Cowell'
> The X Factor USA judges begin work: In Pictures
> Cheryl Cole: Her rise to X Factor USA
> Poll: Is Cheryl Cole the right choice for The X Factor USA?
> Steve Jones: His rise to X Factor USA
> Poll: Is Steve Jones right for The X Factor USA
> Read our complete X Factor USA coverage
Watch the new promo for
The X Factor
USA below: