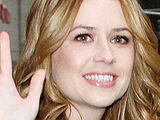 Jenna Fischer
has said that filming her final scenes with Steve Carell on
The Office
was a "really emotional" experience.
Carell
left the NBC series and his role as Dunder Mifflin manager Michael Scott in April
in order to pursue other projects.
Fischer recalled getting "choked up" while shooting her last scenes with Carell, as many of her lines were improvised.
"That was really emotional. They said, 'You know what, Jenna? Just say whatever you would want to say to Steve. Just say goodbye and we'll tape it and when you're finished, just give each other a hug and go your separate ways'," she said in an interview with
New York Magazine
.
"And it was actually a challenge because every time I got down there I would start to cry right away, and I had to try to hold that in a little bit. We did so many takes of that goodbye and I cried every single time. I even got choked up just telling the story right now."
Carell
admitted this week that it is "a little weird" not to be returning to work for The Office's new season
.
The Office
returns for an eighth season on September 22 on NBC
.
> Jenna Fischer reveals sex of baby during Jay Leno interview