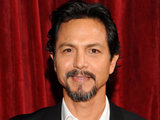 Benjamin Bratt
will return to
Modern Family
next season, executive producer Christopher Lloyd has confirmed.
The
Law & Order
star will reprise his role as Gloria's (Sofia Vergara) ex-husband Javier Delgado when the ABC sitcom returns for its third season next month.
In an episode to air this fall, Javier will attempt to reconnect with Gloria, their son Manny (Rico Rodriguez) and her new spouse Jay (Ed O'Neill) during a day at the races.
"Jay feels possessive of Manny for the first time and wonders what he's allowed to do and what he isn't as his step-dad," Lloyd told
Entertainment Weekly
. "The [racetrack] backdrop becomes kind of a competition between Jay and Javier for Manny."
Bratt
first appeared as Javier in the season one episode Up All Night
, which aired back in January 2010.
Tim Blake Nelson, best known for starring in
O Brother, Where Art Thou?
, recently
signed up to play a cowboy named Hank in the show's Wyoming-set premiere
.
The new season of
Modern Family
will premiere on September 21 on ABC.
> Sofia Vergara: 'Modern Family cast are like their characters'
> Modern Family Jesse Tyler Ferguson chats babies, Lily and season three hopes