0
US TV Blog
'Pan Am': Meet the characters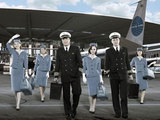 So, are you looking forward to watching
Pan Am
tonight? It's a sparkly, bubbly escape of a show, and perfect for a bit of relaxation time.
We've already sneaked you a little preview about
what you can expect
, but if you fancy a bit more info, you're in luck - we've gathered together a rundown of who's who! Prepare to meet your crew...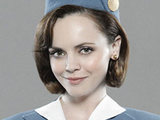 Maggie Ryan (Christina Ricci)
Christina Ricci
is supposed to be the big name in
Pan Am
, which is really an ensemble show. It's certainly fun to see her here (especially if you remember her from things like
The Addams Family
and
Casper
). Maggie is really quite different from that.
Yep, Maggie's great fun - an intellectual bohemian type who's using her life as a Pan Am stewardess to see the world. That doesn't mean she agrees with everything Pan Am does - making stewardesses wear girdles, for example. Yes, you've got it - she might just get into trouble every now and then. But she's enjoyable, witty and not afraid of standing up for herself.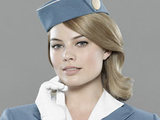 Laura Cameron (Margot Robbie)
If you recognise Margot, it could well be from Australian favourite
Neighbours
- she played Donna. But put that aside and say hello to Laura, who's almost our way in to
Pan Am
- she's only been working for the airline for a couple of weeks.
Laura's excitable, shy, and still figuring out how to be independent. But how did she end up at Pan Am? Well, we only really need to say two words - Runaway. Bride. You'll find out more in flashbacks, but Laura helps us learn all about the high-flying company.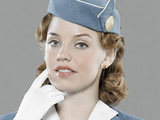 Kate Cameron (Kelli Garner)
There's not only one Cameron serving you - meet Kate, Laura's sister! Kate's been working for Pan Am a bit longer than her sibling, and there might just be some rivalry between the two... Yes, it's a classic sister relationship!
But Kate's got more to worry about than family infighting - she's juggling two jobs. Not only is she working as a Pan Am stewardess... she's been recruited as a spy! OK, she's not a fully-fledged member of the secret services just yet, but she's planning to help her country any way she can. Exciting!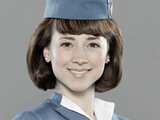 Colette Valois (Karine Vanasse)
Last but not least when it comes to the stewardesses, meet Colette. The French member of the team is classy, smart and oh-so-cool - although she might find that one passenger in the first episode will cause her to lose her perfect facade just a little bit.
There's lots more to Colette, though, and Karine Vanasse is a revelation. Just wait until we begin to learn more about her history in upcoming episodes. Soon, you'll be calling for more and more Colette scenes - and could there be a hint of romance ahead for her? Wait and see!
Dean Lowrey (Mike Vogel)
You can't have a flight without a pilot, right? Meet Dean - your captain for this journey. Dean's been promoted early (you'll find out why later) but he's a nice man, and an excellent pilot. And he gets his fair share of luck with women, too (although actually, not all of it is good).
That doesn't mean Dean doesn't have an angry side, though - he can shout if someone pushes his buttons. But when it all comes down to it, he's cool under pressure, a big risk-taker, and a great believer in honour and courage.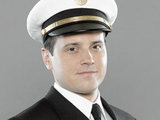 Ted Vanderway (Michael Mosley)
Ah, Ted (we should call him First Officer Vanderway, but he's really just Ted). Ted is good friends with Dean - most of the time - but really they're not so similar. In fact, Ted's a bit of a ladies' man in all the
wrong
ways. Basically, if there's a woman around, he will try to flirt.
But, of course, that's not all there is to Ted. In fact, as the series goes on you might just find out some things that make you feel more sympathetic to Ted. But what could that be? We'll leave you guessing for now!
Pan Am begins tonight at 9pm on BBC Two.
Pan Am is available on

Watch now