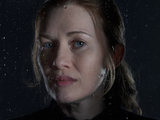 This TV writer has something to confess *deep breath*... My name is Alex Fletcher, and I have not watched
The Killing
. I admit it and will hold my head in shame. The Danish cult hit
Forbrydelsen
became a huge watercooler talking point when it aired on BBC Four, sparking a new craze for European TV (
Spiral
,
Government
) and woolly jumpers.
Such a hit show couldn't be ignored by the US networks and AMC (
Mad Men
,
Breaking Bad
), decided to give a remake a whirl (to much aghast and horror from fans of the Scandinavian original). Channel 4 has snapped up the rights in the UK and we'll be recapping and covering the show at their pace for the next couple of months. We come to the show with innocent eyes, so if you want to moan about how it's no
Forbrydelsen
then you'll have no luck here.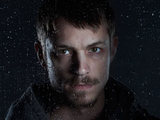 So what are our first impressions? Very, very good. Excellent in parts and the only concern is the pace at which the plot is unravelling. We've only got through two episodes but the sprawled sub-plots (dodgy politicians, the breakdown of a family, sinister new detective in town) feel like they are ready to burst out of the seams, perhaps hampered by the reduced episode length from the Danish version. We're down to 13 from the original 22. However, the premise remains simple and intrigue is ramped up to the max - who killed Rosie Larson?
Mireille Enos
, as knitwear fanatic and moody detective Sarah Linden, is an enigmatic centre point for the show. She should single-handedly lift this above your average procedural snooze. In typical Hollywood style, she was on the last day of her job, when all of a sudden *gruff movie voiceover man* "a new case drew her back in". Joel Kinnaman's twitchy and shady Stephen Holder - the best character so far - is a former street level drugs buster who's trying to make a move into homicide. His unlikely partnership with Linden should make for compelling TV.
Michelle Forbes and Brent Sexton (rocking some nice dungarees throughout) were believable as Stanley Larsen and Mitch Larsen, the parents of the missing (and then murdered) Rosie. The political trio of Seattle mayoral candidate Darren Richmond (Billy Campbell) and his campaign team Gwen Eaton (Kristin Lehman) and Jamie Wright (Eric Ladin) were probably the least impressive segment of the jigsaw, but they just about walked the tightrope without becoming walking dodgy politician clichés. Needless to say, we don't trust any of them at this stage. The supposedly honest and good intentions of Richmond don't ring true.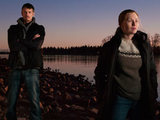 Other suspects and minor characters include Rosie's schoolfriend Sterling (Kacey Rohl), who evidently knows more than she is letting on, and the ghastly rich kid and former boyfriend of the murder victim, Jasper Ames (Richard Harmon). Local senator Ruth Yitanes (Lee Garlington) looks like a woman you don't want to mess with (is she really backing Richmond?) and as it's a murder mystery the harmless and suspicion-free teacher, Bennet Ahmed (Brandon Jay McLaren), and Stanley's co-worker Belko (Brendan Sexton III) cannot be ruled out at this early stage.
Did you notice....
- The look between bad boy Jasper and Rosie's friend Stirling. What do they know? What have they done?
- Jasper's dad's line, "What have you done this time?" Does this refer to bad behaviour at school or something more sinister?
- Gwen's "we are a month away from the election, this thing will sink us" line showed that she's just as much of a cynic and spin doctor as the more blatantly horrible Jamie. She's got a dark side.
Favourite Quotes...
Stephen: "At least you've got a bad guy [in homicide]." Sarah: "Oh yeah, who's that?"
Jamie: "Missing kid, desperate family, you pulling out all the stops, campaign be damned... this is perfect Darren, especially if the kids ends up dead."
Sarah: "Do you know any tweakers who drop their wardrobe off at the dry cleaners?"
Sarah: "At times like this I like to ask, 'What would Jesus do?'" Stephen "I don't know, I'll ask him."
Did you enjoy the first two episodes of The Killing? Share your thoughts below!