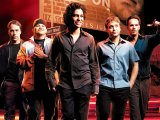 The cast of
Entourage
have dropped hints about the new season of the show.
Speaking to
Entertainment Tonight
,
Adrian Grenier
explained that his character Vince will gain a new perspective in the episodes.
"Vince actually steps out of his comfort zone for the first time," he said. "And really starts to appreciate life in a new way. For so long when you're living the good life, you can tend to become desensitised. So he steps out in order to truly smell the roses."
Meanwhile, Jeremy Piven, who plays Ari, claimed that this is his "best season" because of the writing.
"The character gets to be humanised this year," he explained. "I think he's got this acerbic tongue that comes back to crush him this year. He's drunk with power and he rises as high as an agent can. And there's going to be a lot of madness this year because of it."
Piven also claimed that the show has "the most amazing cameos", saying: "Everyone literally from Mike Tyson to John Cleese. And I don't think anyone in the history of television can say that."
Debi Mazar, who stars as Shauna, added: "Season seven - we're very excited. We don't know if we've got another season coming or not. This could be the end and it's really packed full of lots of great stuff."
Entourage
returns for its seventh season on June 27 on HBO.
> Kravitz, Diddy to guest in 'Entourage'