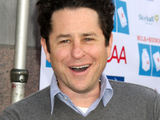 Fox has reportedly commissioned both J.J. Abrams's new series
Alcatraz
and
The Finder
for its 2011-12 season.
Alcatraz, a crime drama
, reunites the
Lost
creator with
Jorge Garcia, who played Hurley on the show
.
Sam Neill
,
Jonny Coyne
and
Sarah Jones
also signed up for a pilot episode which was filmed earlier this year.
The Finder
is a spinoff of
Bones
, which was
recommissioned for a seventh season earlier this month
.
Geoff Stults will play protagonist Walter Sherman, a former military policeman
. His character has already been introduced in the main series.
Michael Clarke Duncan
and
Saffron Burrows
have also been cast as Sherman's sidekicks.
Speculation is also rife about drama cancellations at the network.
The Chicago Code creator Shawn Ryan confirmed on Twitter that Fox has cancelled the police procedural drama
. Additionally,
Lie to Me
and
Human Target
are also believed to have been axed by the network.
An eighth series of medical drama House was officially confirmed yesterday
.
Fox is due to make a formal announcement about its schedule early next week.