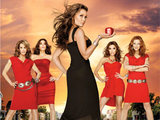 Desperate Housewives
is at its best when the four women have intertwining stories. Unfortunately, in this episode the various plotlines didn't really have much to do with each other and there was a sad lack of Gaby.
But that's not to say it wasn't still entertaining, and hopefully some of the developments will begin to pay off in future instalments.
We start off with Mary Alice reminding us that Susan and Carlos have never been great friends, but suddenly they're close - turns out killing a man and covering it up will help you bond.
Unable to sleep, they both end up wandering Wisteria Lane in the dark and chatting about their guilt (and, um,
To Kill A Mockingbird
). The only problem is that Mike spots them saying goodbye from the window, and it looks rather suspicious...
His suspicions aren't exactly soothed when he gets a phone call from the police about Susan's community service (you remember, she ended up in prison last week). It's even worse that he was called Mr Solis because Carlos came to pick her up. Susan tries desperately to explain but even she can't provide a reason for the little moonlight walks without giving too much away. Uh oh!
Anyway, Susan ends up painting over graffiti for her community service and Carlos shows up, hoping to chat. Susan is reluctant to go to lunch with him because of Mike's suspicions, but agrees to chat if Carlos joins in with the painting (weirdly, he can only do this if he commits a crime so he throws the organiser's paper on the ground and calls it littering. Bizarre).
Of course,
Desperate Housewives
loves a misunderstanding, so when Carlos and Susan spot Mike driving past they do the sensible thing and dive into a van. Yes, it's all very predictable, and when they start to wonder if there's something more between them it all feels a bit trite.
That said, though, the chemistry was crackling in the back of the van and it's great that Carlos and Susan avoided kissing because of their respective spouses. Instead, they decided it was best to get out of the van. I wonder whether this will come up again or if it will be conveniently forgotten.
Mike's convinced they got up to something in the van, though, because he spotted them and when they climb out, Carlos gets punched right in the face. Back at home, Susan and Carlos decide that it is finally time to tell "the truth" about Alejandro's murder, but Mike ends up walking off.
It's all very ambiguous, and I am interested to see his reaction - it's not like Mike can really take the moral high ground considering his history.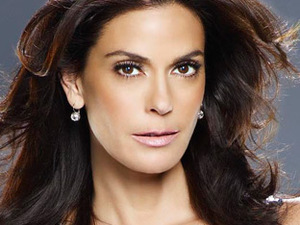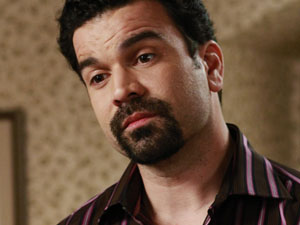 Elsewhere, Lee persuades a very reluctant Renee to take his 11-year-old daughter bra shopping because he's a bit nervous about the whole thing. In fact, he even uses the phrase: "The booby fairy has arrived."
Renee isn't feeling wonderful about the idea - even trying to rope in Lynette - but ends up having a great time with Lee's kid Jenny. Lee gets a bit concerned when he discovers that Renee has bought Jenny some makeup and advised her about a boy called Jackson, though.
Lee gets more and more worried about the time Jenny is spending with Renee, even telling Renee to back off because she's not Jenny's mother (mind you, Jenny says Renee would be a cool mum, which makes her feel rather good). Oh, and I have to congratulate Lee for taking exception to Renee's use of the word "totes": "Use the whole word! How much time are you saving?"
Anyway, the last straw is when Jenny breaks into Renee's house when she's out, worrying Lee who does not know where she is. He claims it's all Renee's fault for getting involved but Jenny explains that she likes spending time with her. She admits that sometimes it would be nice to have a mum.
Eventually, Renee sends Jenny into another room and Lee confesses that he has always been worried that he and Bob wouldn't be enough for Jenny. But Renee winningly tells him to shut up and points out that for the first time in her life she's enjoyed spending time with a kid - because of how Bob and Lee have raised Jenny.
Lee and Renee hug and make up, and while this storyline didn't really have any relevance to anything else, it was quite touching. ("I take back everything I said about you being an insensitive bitch." "You never said that." "... Don't open your email.")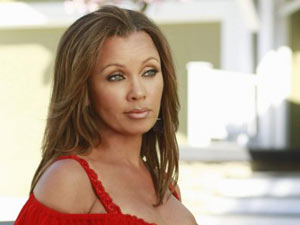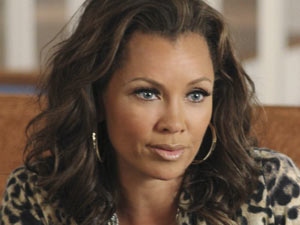 Elsewhere, Lynette's sister Lydia comes to visit, but while she is normally a trainwreck, this time she's engaged. And she's gone all new age, too, thanks to the influence of her fiancé Rashie (by the way, as a
Studio 60
fan, it's very satisfying indeed to have Sarah Paulson on my TV screen). Anyway, because of Lynette's marriage breakdown the tables have well and truly turned, and it's fair to say Lynette's not dealing with it too well.
To be fair, Rashie only knew Lydia for three weeks before proposing, and the ring is made out of a rock. Is it any wonder Lynette's a bit cynical? She doesn't think Lydia should get married, but Lydia just invites her to a meditation seminar in a yurt. Hmm, tempting. As a side note, it's a bit disappointing that Lydia and Rashie are all new age - it's a bit of an easy target.
After a meal made out of health food, which Lynette barely touches, Rashie goes out for a walk. Lydia says she's trying to help Lynette change, but Lynette thinks she's just shown up to rub her face in her new happy relationship.
Lydia refuses to be dragged down to Lynette's level, but of course that can't last and soon she's yelling that she hates her and she loves that Lynette's now the screwed up bitch. Of course, this is the moment when Rashie walks in. You don't say!
Rashie's head is all messed up by seeing Lydia explode like that, so he goes to the meditation yurt alone. I would have thought that Lydia would be pleased to get out of it, but instead she sits on the floor eating ice cream and drinking chardonnay, all mopey. She admits to Lynette that she should have known she could never have a functional relationship.
Lynette's naturally feeling guilty, so she heads over to the yurt and pulls Rashie outside (the best bit about this is that when he refuses to come out she begins belting out 'There's No Business Like Show Business').
She tells him not to leave Lydia, but Rashie explains that his real name is Herbert and the "energy" during Lydia and Lynette's fight reminded him of his home life. But Lynette advises him to give Lydia a chance to change and he agrees to consider it.
Sure enough, he ends up calling Lydia and promising to be patient. Lynette congratulates her and admits that her sister really is changing, and that's why she's been so awful - she's jealous. She
finally
admits that she pulls relationships about until they go where she wants them to - hallelujah! Lynette accepts her flaws!
Anyway, she thinks it might be too late for her to change, but Lydia disagrees. This storyline had its ridiculous moments, but seeing Lynette holding back tears as she dabbles in self-awareness was good.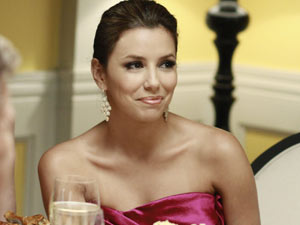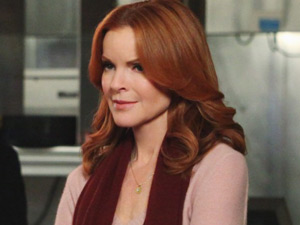 But back to the murder plot, and Gaby is not impressed to find out that Bree's still dating Chuck. But Bree explains that she thinks Chuck wrote
that
letter, so Gaby advises her to snoop around and find out what exactly he knows. Because that will end well.
Anyway, Bree ends up forcing Chuck to whisk a béarnaise sauce for ten minutes while she tries to spy on him upstairs. In his briefcase, she finds a photograph of her hand on the bedspread and an envelope with her name on it.
But there's no time to investigate further because Chuck's coming up the stairs, so she doesn't have time to look inside. Right from this moment I was expecting there to be a perfectly reasonable explanation for it all - it's a shame it wasn't more tense.
Anyway, Gaby thinks Chuck found a handprint at the crime scene and has matched it to the photograph of Bree's hand. The pair agree that they need to check out the envelope, so Bree decides to take Chuck out for a walk that night so that Gaby can break in and have a look.
That would all be fine, except that when Chuck gets home he wants to take Bree out - with the envelope. Gaby's a bit concerned that he's about to lay all the evidence on Bree so she decides to follow them.
The pair end up in a restaurant and after some ridiculous behaviour from Bree, Gaby manages to pinch the envelope from Chuck's jacket. The pair meet in the bathroom and discover that - shock, horror - the package contains an engagement ring (which explains the hand photo as he was trying to work out her finger size). But Bree doesn't want to get married to Chuck so she decides to let him down gently.
I don't know what Bree was expecting, considering Chuck was just about to propose, but he doesn't exactly take the break up well. He reveals that he has suspicions, and in fact it seems like Chuck might just know more than Bree would like. It all gets rather chilling when he announces that he would have done anything for Bree because he protects the people he cares about.
But he doesn't care about Bree now, so if she finds herself in trouble - and he's pretty sure she will - there's no point in calling him. "You have made a very big mistake," he warns. Oo-er! What could happen next week? We'll have to wait and see...
What did you think of the episode? Leave your comments below!