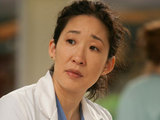 Grey's Anatomy
star
Sandra Oh
has revealed that she is happy with the way the show has dealt with Cristina and Owen's relationship.
Oh admitted that she isn't sure whether Cristina and Owen (Kevin McKidd) have a future
following their recent problems
.
"It's just sad and hard right now," she told
TV Guide
. "If there's [hope], I can't see it right now."
However, Oh explained that she is pleased that the troubles are being explored in depth.
"What I really am happy with is that a dissolution of a relationship - if it is a dissolution - takes a long time and is painful," she said. "We're spending time with them, seeing it happen. And not quickly, but painfully, day by day."
Grey's Anatomy
airs on Thursdays at 9/8c on ABC.
> Grey's Anatomy boss unsure of Patrick Dempsey, Ellen Pompeo future
> Grey's Anatomy: 'If Only You Were Lonely' recap
> Read more coverage of Grey's Anatomy