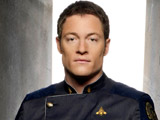 Battlestar Galactica
actor
Tahmoh Penikett
has revealed that the entire cast felt that the recently-filmed show finale was "perfect".
Penikett, who played Karl 'Helo' Agathon since the reimagined
Galactica
launched in 2003, told
Entertainment Weekly
: "I can honestly say it was the first time that I've ever seen in the five years that we've been doing this, everyone on board, every single cast member, not having a negative thing to say about it... we were all walking round smiling."
"As a fan of the show," he continued, "it's perfect. It's amazing. [Showrunner] Ron Moore wrote the final episodes and they're incredible."
"I don't want to talk about it too much or I might break down and cry," added Penikett, who will soon be seen in Joss Whedon's
Dollhouse
.
The concluding episodes of
Battlestar Galactica's
final season will be screened in early 2009.
> Click here to read our review of Battlestar Galactica's fourth season