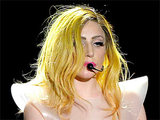 Ryan Murphy
has revealed plans to cover Lady GaGa's upcoming single 'Born This Way' on
Glee
, despite the song not having been aired yet.
Murphy says he has already heard the single and claims he recently received permission from Lady GaGa to implement it in the show.
The
Glee
creator hopes to use the song in an upcoming episode about closeted bully Karofsky, played by Max Adler, in either March or April.
"I love that [the] song is an anthem," Murphy told
EW
. "This show is by nature optimistic and I think a character like Karofsky could turn to booze or pills or alcohol and kill themselves or do something dark."
"But I also love Max [Adler] and I love that character and I sort of want that character to have a happy ending," Murphy added. "So I don't really know what that's going to be, but I do know we're going to do a whole episode that's about that song."
Murphy previously used the Lady GaGa songs 'Bad Romance' and 'Poker Face' in the season one episode 'Theatricality', as well as her Beyoncé duet 'Telephone' earlier this season.
'Born This Way' will be released by Lady GaGa on February 13, followed by her new album in May.