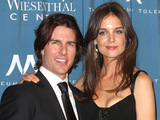 Tom Cruise
has denied suggestions that he will film a guest appearance on an upcoming episode of
Glee
.
Last month, sources close to the show claimed that
Cruise was close to signing for a multi-episode arc as a failed popstar forced to lead one of McKinley High's rival glee clubs
.
Speaking to
Extra
, the star was questioned as to whether there were any veracity to the reports linking him to the hit Fox sitcom.
"No," Cruise replied. "I'm busy."
While he won't be appearing on
Glee
in the near future, Cruise noted that he's "having a blast" working on the movie musical
Rock of Ages
.
"I just like doing different things and it's a dream come true to get an opportunity to do [a film] that's totally different," Cruise affirmed. "I've been training for months and months. I'm very excited about the cast and working with [director] Adam [Shankman]."
It was reported yesterday that frequent
Glee guest star Gwyneth Paltrow might join the show's cast on their upcoming live tour
.
Glee
returns with new episode
'Prom Queen'
on Tuesday at 8pm ET/7pm CT on Fox. In the UK, the series airs Mondays at 9pm on E4.
> Glee cast cover Rebecca Black's 'Friday'