1
US TV Blog
'Glee': Ten teasers about 'I Kissed A Girl'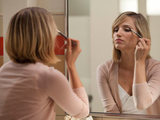 Fancy another episode of Glee, then? The Thanksgiving break was hard - especially since we ended on that slap - but thankfully another instalment is just around the corner. There's lots going on, too, so if you want some hints about what's coming up you're in luck!

Read on for our ten teasers about the next episode of Glee, 'I Kissed A Girl'...

1. Unsurprisingly, Santana coming to terms with her sexuality is a big part of the episode. But how exactly will that go? Um: tears.

2. "Let me be more clear. If you come over on Friday, you get to have sex with me."

3. You will find out the winner of the congressional election and the class president election. Don't say Glee isn't good to you.

4. Someone gets called a coward. But why?

5. "They're all so lost in their own worlds they can't see how important this is to me."

6. Coach Beiste gets her first solo! It's a classic song, too.

7. "I want you to ***** **** *****. I don't ever want to *** *** again."

8. A new love triangle arises (and we're not talking Puck-Shelby-Quinn, but there are developments there too.)

9. "I will not go down without a fight."

10. Someone's desperation is going to come back and bite them, and the others. Big time.

Glee airs on Thursday at 9pm on Sky1.