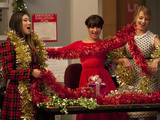 We're well into Christmas special territory now, and this week it's the turn of
Glee
to get in on the action! Yes, it's all feeling very festive in Lima.
The episode, directed by Matthew Morrison, sees New Directions being torn between two offers of Christmas gigs. But how will they choose? We're not going to spoil that, but if you want some hints about what's coming up, read on for our ten teasers!
1.
New Directions perform a brand new original song.
2.
There's a new Sam-and-Rory bromance. But is it going to run into problems before it's even started?
3.
Last Christmas, Sue was a Grinch. This Christmas, we get to see her softer side once again.
4.
Someone's already thinking about Valentine's Day.
5.
Rachel has a big list of demands that Finn's a little bit concerned about.
6.
"I'm glad you turned it around."
7.
We find out what happened to Artie's Christmas present from last year.
8.
Finn buys Rachel a surprising gift, and a rather sweet gift.
9.
"Honestly, I'm just trying to keep myself occupied."
10.
A large chunk of the episode is shot in black and white and is
like no episode of Glee you have ever seen before
. Trust us.
Glee airs on Thursday at 9pm on Sky1.