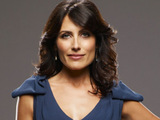 House
creator David Shore has claimed that the departure of Cuddy (
Lisa Edelstein
) will not be a "big story" on the show.
In the medical drama's eighth season, House (Hugh Laurie) will
find himself in prison after driving his car into Cuddy's home
, but Edelstein will not reprise her role after
failing to reach a deal with producers
.
"There's going to be an acknowledgement [of Cuddy's exit] but it's not going to be a big story about her because unfortunately we don't have [Lisa]," Shore told
TV Guide
.
The producer added that a return for Edelstein to wrap up her character's storyline was unlikely to happen in the near future.
"Down the road, that might be more appropriate [but] It didn't seem right now," he said. "Given that she was gone, we decided it was better to not just have her come back to leave again."
Edelstein recently described her departure from
House
as
"very sad and very disappointing" and "a really difficult decision to make".
House
will return to Fox on October 3.
> Olivia Wilde to play reduced role on House
> House exec: 'Charlyne Yi is perfect casting'
Watch House's attack on Cuddy in the
House
seventh season finale below: