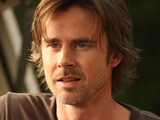 Sam Trammell
has admitted that he never expected to have so many nude scenes on
True Blood
.
Trammell, who plays shapeshifter Sam, has to appear naked whenever his character changes form.
"I knew I would have to be naked a little bit," Trammell told
Zap2It
. "I didn't realise every time I turned back from an animal into a human that I'm naked and very often not anywhere near my clothes that I had left wherever I turned into an animal to begin with. So I didn't really realise how much it would be."
He continued: "Also it is kind of like I'm naked a lot but not in a romantic, sexual kind of setting with mood lighting and all that kind of stuff. I'm just out in the woods, you know, naked."
However, Trammell joked that he enjoys figuring out ways to preserve his modesty on the series.
"I mean, it is sort of funny and we have a laugh and we kind of think about the
Austin Powers
bits with the grapefruits and the watermelons," he said. "But yeah, it is always interesting figuring out if I am going to be next to the car, if the door is going to be open at a certain point and I'll be behind the door. Yeah, it is always a different kind of trick. We have some laughs about it for sure."
True Blood
continues on Sundays at 9pm on HBO.