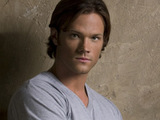 Supernatural
star
Jared Padalecki
has revealed that his character Sam Winchester will be more ruthless in the upcoming sixth season.
Viewers saw Sam become trapped in hell in the show's fifth season finale. Padalecki explained that the experience will dramatically change the character.
"It's a part of Sam that I like to play [and] that we haven't seen too much of," he told
The Futon Critic
. "It's a very tactical Sam."
He confirmed that the new episodes will see the character "shoot first [and] ask questions later".
"[He doesn't] worry about casualties or collateral damage," said the actor. "He's not heartless, he's just more tactical. He's seen what trying to do the right thing can do."
Supernatural
will return on September 24 to The CW.