12
Cult News
'Supernatural' star 'returning for new season'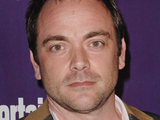 Warning:
This article contains spoilers that some readers may prefer to avoid. Please
click here
if you wish to continue.
Mark Sheppard
has confirmed that he will appear in the new season of
Supernatural
.
The actor plays the sinister Crowley in the drama series, which returns to The CW on Friday, September 23.
"There's actually a shot of me in the season seven trailer, so you're not going to really get away with [hiding] that, are you?" he told
Assignment X
.
Sheppard insisted that the extent of his
Supernatural
role this season has to remain a secret, calling the situation "kind of weird".
"The more that I've played characters that have recurred, the more that I've played characters that figure somewhat largely in these really, really fun shows that I've gotten to do," he explained.
"[And so] the more I've had to keep a secret as to what my purpose is, or whether I'm actually showing up at all."
He also suggested that viewers may discover new secrets about Crowley, hinting that the character's demonic background could be a facade.
"You never see my eyes flash red, [so] how do you know I'm a demon?" he asked. "[Everyone] could be lying. That's the fascinating thing."
James Marsters, Charisma Carpenter
,
Jewel Staite
and
Kevin McNally
will also appear in the new season of
Supernatural
.
> Supernatural Jim Beaver teases seventh season 'changes'
Watch a promo for the new season of
Supernatural
below: