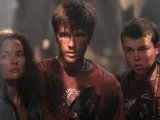 Light summary
|
Full summary
Note:
The light summary of this article provides only gentle teasers as to what happens in this episode, and is suitable for reading before viewing. The full summary serves as a more detailed recap of the episode.
Light Summary:
Sam and Dean follow the coordinates left in their father's journal and land in the middle of the woods where they investigate the disappearance of several campers. The two brothers soon learn they are dealing with a Wendigo, a creature made famous in Native America legends. A Wendigo is a former human whose cannibalism has transformed him into a creature with superhuman strength and speed that feasts on human flesh.
Full Summary:
Blackwater Ridge, Lost Creek, Colorado: A group of young lads on a camping trip are enjoying a peaceful time until one of them responds to the call of nature and meets a gruesome end. One by one, the boys are killed off. Who or what is doing the killing?
Palo Alto, California: Sam visits his girlfriend's graveside to say his goodbyes. He gets more than he bargains for when he kneels down to lay the flowers…
Back on the road, Sam wakes up from his nightmare. Still on the hunt for their father the brothers head for the coordinates that were left for them. The map suggests that nothing is there but Blackwater Ridge.
When the pair get wind of the news that a person has gone missing, Sam and Dean know they're in the right place…
Sam and Dean meet Hayley, the sister of a missing young man, Tommy. Armed with all of the facts, they decide to explore the Ridge the following day.
Sam does a little digging in the local archives and stumbles across other articles all of which report people going missing on Blackwater Ridge. Will this lead them in the right direction? And will the video clip which Sam downloaded from Hayley's computer help them on their quest?
The brothers track down the only known survivor of the Blackwater Ridge attacks. Will their visit help to diagnose the problem?
The following day, the entourage head out into Blackwater Ridge in search of the missing persons. Sam and Dean know they're definitely in the right place when the GPS device confirms their father's co-ordinates…
Trecking across the Ridge leads the rescuers to the wreck of a camp. A scream is heard in the distance…
Both Sam and Dean know that the only way forward is to settle in for the night… More screams are heard in the distance… Are they real? Or is it a trap?
Their father's diary leads them to deduce that the creature they are dealing with is a Wendigo. Is there a chance that Tommy is alive? Are Sam and Dean safe from danger? And will the brothers destroy the evil spirit?